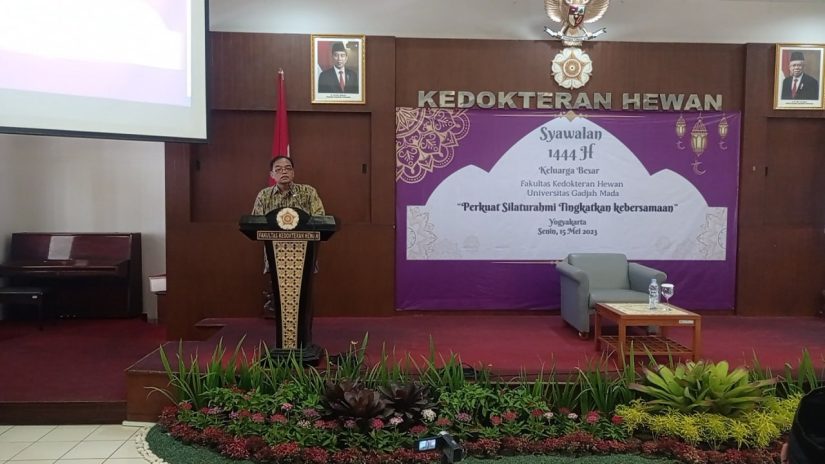 On Monday, 15th May 2023, Faculty of Veterinary Medicine UGM organized Syawalan Event Faculty of Veterinary Medicine Universitas Gadjah Mada, attended by all academic community in Faculty of Veterinary Medicine Universitas Gadjah Mada and the Senate, the retired officers, Dharma Wanita, students and invited visitors. This time, the Syawalan carried a theme "Strengthen Friendship Upgrade Togetherness".
In the Syawalan event the pledge syawalan vows led by Vice Dean I, drh. Agung Budiyanto, MP., Ph.D who invited audience for cleanse and sincere we order all sin And error We forgiven by Allah SWT and Also all Hope And Prayer We granted by Allah SWT.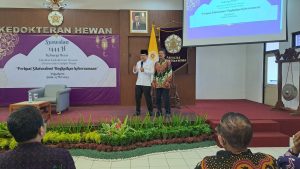 The next event is welcome greetings from the Dean of FKH UGM Prof. drh. Teguh Budipitojo, MP., Ph.D. According to the Dean, even though the implementation of Syawalan event this time was rather late, but still will not reduce wisdom and meaning of the event. Furthermore, he also invite all audience to keep strengthening the gathering for the sake of cultivating togetherness.
Tauziah at the Syawalan event this year was filled by the Dean of FKG UGM drg. Suryono S.h., MM., Ph.D., highlighting the effort to keep the togetherness in diversity with addressing the existing differences wisely. In the description he exemplifies the fingers in our hand that are different in form and function but form mutual unity and fill in and strengthen each other's function completely. According to him, the difference in man is on the personality and no other that the appearances, possessions nor level of education, he said.
The audience solemnly follow each series of events. Not only remarks, prayers & tauziah materials, the audience also served Gema Wahyu Ilahi and pledge syawalan vows. Syawalan event was ended with halal bihalal shake hands between audience and enjoy lunch together.